Infrastructure managers must contend with the widespread (and, in some cases, premature) aging of their structures, mostly caused by road traffic, especially heavy vehicles and oversize loads, passing over them. Thanks to its experience monitoring several hundred French and international sites, OSMOS has been able to push the limits of dynamic structural analysis and reinvent structural health monitoring (SHM) for bridges, thanks to its automated Weigh-in-Motion + Deformation (WiM+D®) solution.
Detailed dynamic analysis: One step close to the structural reality of bridges
Multiple continuous structural monitoring solutions are currently available on the market, but none of them can calculate vehicle weights and dimensions and, at the same time, measure the effects of their crossings on the mechanical behavior of structures, despite the fact that this is one of the main factors contributing to their accelerated deterioration.
OSMOS combines weigh-in-motion techniques with dynamic analyses of structural deformation. Simply by arranging a few non-intrusive Optical Strands under the structure's deck, the system can automatically count and weigh passing heavy goods vehicles. Based on that information, the teams at OSMOS will then determine the exact impact of those heavy vehicles on the structure's mechanical operation.
After being piloted on multiple bridges in France and Italy since 2018, OSMOS WiM+D® is now a tried-and-tested monitoring solution, and the most economical one on the market. It costs contracting authorities less than traditional weigh-in-motion systems. This is because no major work is required for the sensors' installation, and the bridge does not have to be shut down in order to set up the equipment. OSMOS's WiM+D® solution also yields unique, concrete, quantifiable information about how the infrastructure is actually used and monitors its structural health.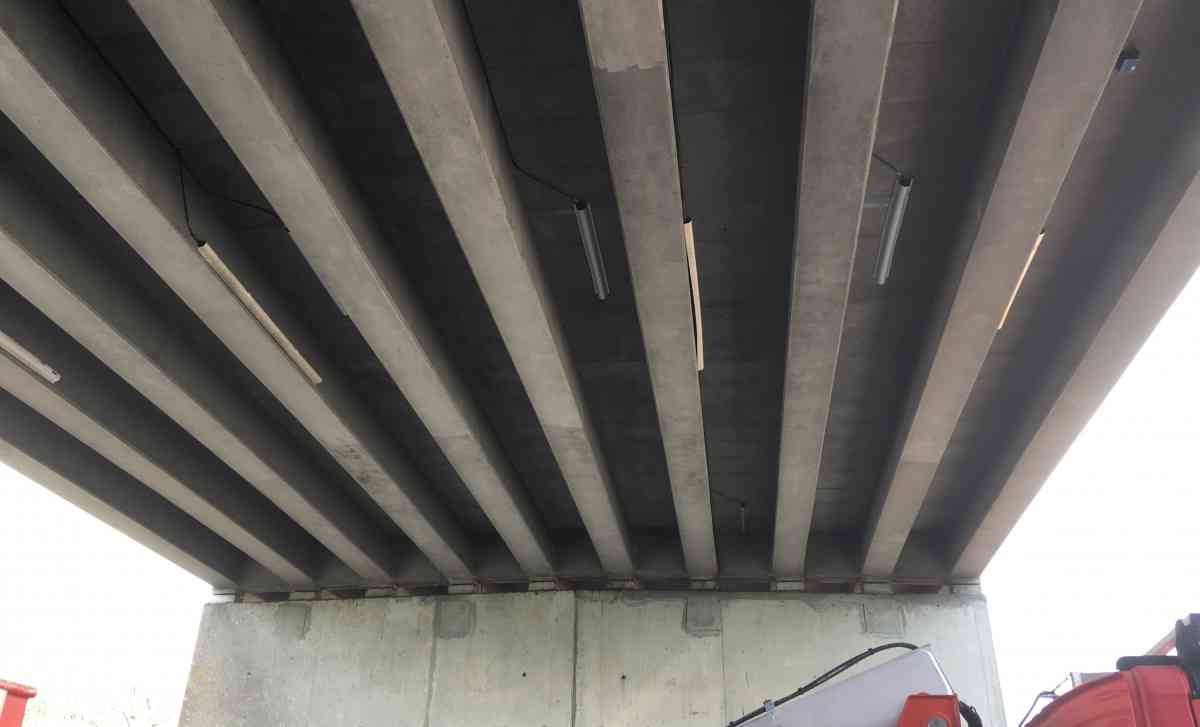 View of the WiM+D® monitoring system, non-intrusively installed under the deck of a concrete bridge
Structural managers, take advantage of the support offered by the teams at OSMOS to take control of your bridge's health and considerably cut your operating costs
OSMOS WiM+D® can monitor your bridge's state of health in real time and calculate the exact impact of road traffic on its mechanical behavior. This allows managers whose infrastructure is traveled over by cargo vehicles to define appropriate maintenance schedules, spread the cost of upkeep over the long term and extend their bridges' lifespans, all while guaranteeing user safety.
Thanks to precise data, our clients have access to key information about traffic on their structures. In concrete terms, they can see the speed and driving direction of each truck, total weight and weight distribution per axle, length and maximum strain caused to the infrastructure. Heavy vehicles are automatically classified by weight and by driving direction. That information can then be viewed via the online interface, SAFE WorksTM. The system also generates standardized individual records containing the information about each passing truck. The bar graph below is an example of the data collected for a bridge (client name confidential) over the course of a full month. You can see that 20 vehicles weighing more than 48 metric tons were recorded passing over the bridge during the monitoring period. This graph breaks down the number of trucks by weight.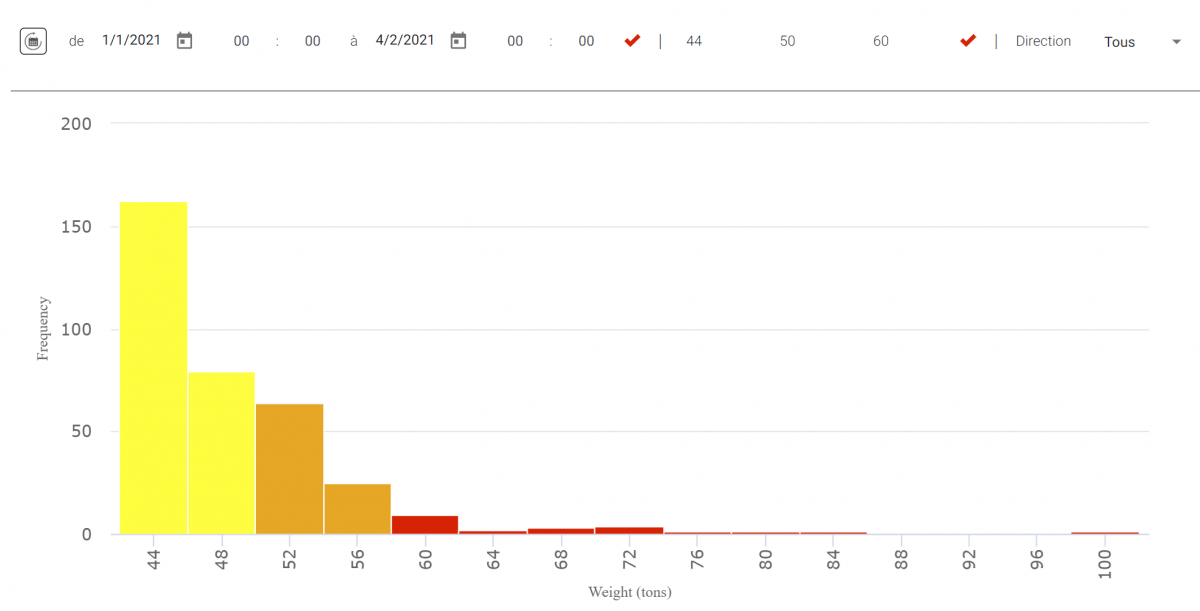 View of SAFE WorksTM: Heavy vehicle count and classification by weight (yellow for 40-60 MT, orange for 60-80 MT and red for > 80 MT)
As needed, video surveillance cameras can also be installed at each site and connected to our measurement system. Each heavy vehicle or oversize load can be identified by its license plate and its timestamped passage. This optional set-up can be used to confirm the conditions under which measurements are taken and to reinforce overload controls based on the total loads authorized for road freight vehicles.
Of the different weigh-in-motion solutions available on the market, OSMOS WiM+D® stands out from more conventional systems, which tend to be intrusive for the infrastructure and costly to install. Not only does the OSMOS solution offer the same functions, but it also provides real-time information about the bridge's structural health and its evolution, as well as detecting any anomalies. With this knowledge of the structure and the exact impact of its operation, the bridge's manager can achieve considerable savings on the budget allocated to maintenance and extend the lifespan of this vital resource. OSMOS's teams continuously strive to further enhance the WiM+D® solution, placing special emphasis on moving research forward, namely through ongoing partnerships and new projects in France and abroad.