"Some 25,000 bridges are in poor structural condition and pose safety and availability issues for users"
Bridge safety: Avoiding tragedy
Sénat information report no.609 on behalf of the sustainable development and regional development commission
Lodged on 26 June 2019
The most serious structural risks are not always visible. Visual inspections of bridges can only periodically report on visible issues in order to classify the structures according to quality standards (IQOA, VSC, etc.). Given the general ageing of infrastructure, including bridges, managers of those structures need a tool that gives them a clear view of their structure's health. Our teams have created the OSMOS Weigh-in-Motion + Deformation (WiM+D®), a unique automated system combining weigh-in-motion techniques with an analysis of structural deformations. This new tool describes the loads passing over the structure and quantifies the exact operational impact on its structural condition.
Thanks to OSMOS WiM+D®, managers of structures can schedule appropriate maintenance programmes, spread out long-term maintenance costs and extend the lifespan of their bridges while ensuring the safety of users.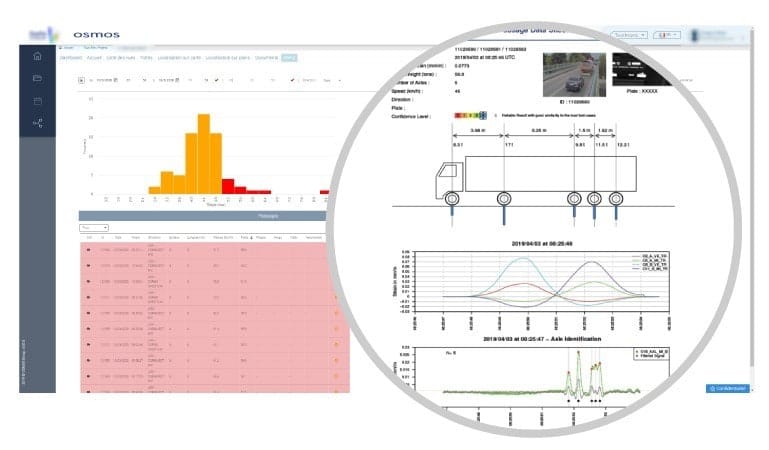 The OSMOS WiM+D® module lets you go beyond standard weigh-in-motion methods which are costly and restrictive in terms of installation. Simply by installing a few non-intrusive optical strands in the most serious deformation areas under the structure's deck, we can count and weigh heavy vehicles and assess the exact impact of their crossing on the structure's mechanical operation.
Our accurate data gives you key information about traffic over your structure, including speed and direction of crossing for each lorry, total weight and distribution of weight by axle, length and the maximum resulting strain on the structure. Heavy vehicles are automatically classified by weight and by direction of crossing. This information can then be viewed via the online interface: SAFE WorksTM. Optional video-surveillance cameras can also be installed at each site and linked to our measurement system. Each truck or exceptional convoy can be identified by its license plate and its timestamped passage. That information is also available online in individual files and is subject to GDPR regulations.
A statistical analysis of these dynamic events enables you to assess the structure's operational rate and verify the deck's mechanical behaviour under moving loads: actual level of deformation, continuity, height of neutral axis, blockages on supports, etc.
Thanks to the OSMOS WiM+D®, you can track your bridge's health in real time and understand the exact impact of traffic on its mechanical behaviour. This enables you to plan suitable maintenance, adapt the bridge's service level if required, and prolong its lifespan.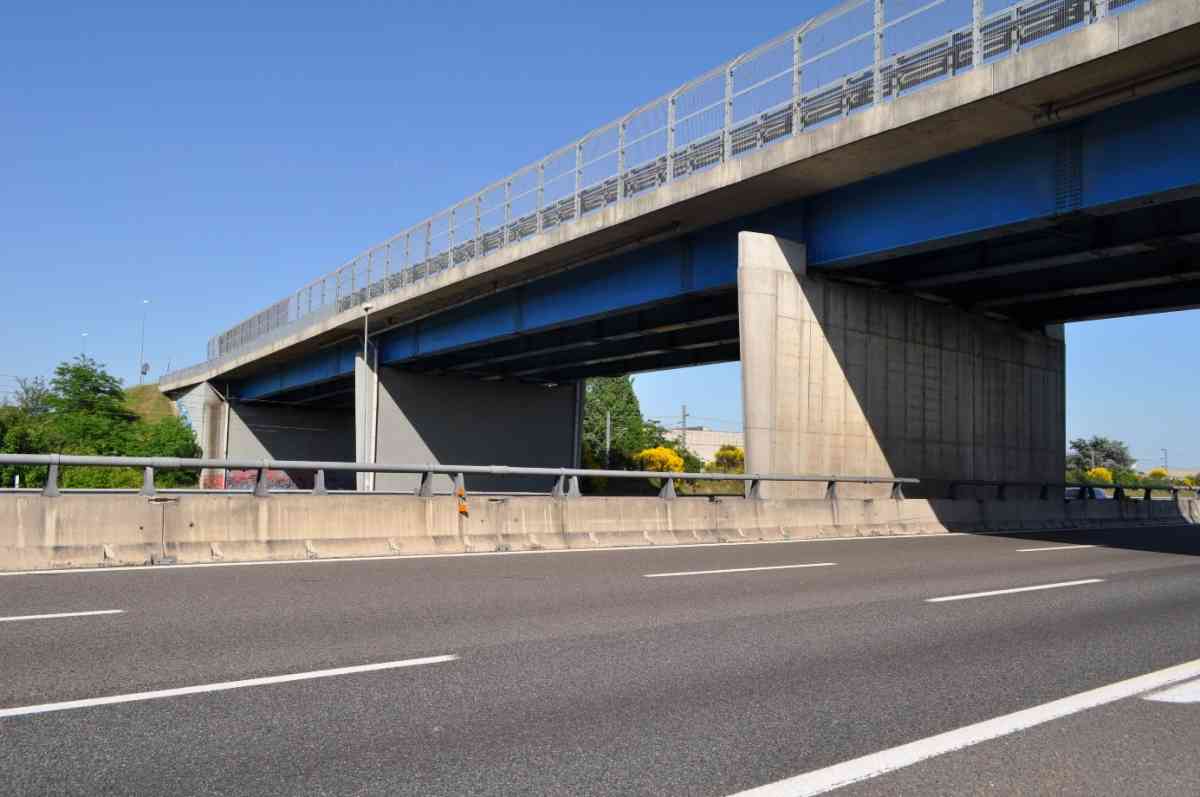 OSMOS WiM+D® application: Example of monitoring a high traffic motorway bridge, with vehicle weight estimation and analysis of exceptional convoy impact
OSMOS was contacted by a European leader in toll road construction and management. The assignment: to monitor the behaviour of a motorway bridge in a setting that generates high traffic. The structure sits above another motorway and a railway, and is frequently used by heavy vehicles, including exceptional convoys. It is therefore important to check the impact of their crossings on the bridge's condition.
In order to calibrate the OSMOS WiM+D® system to the structure's response to that traffic, it was necessary to firstly perform load tests. This stage helped identify the dynamic signatures associated with various test loads and check the deck's normal behaviour when vehicles cross it.
Following the load test, continuous structure monitoring was implemented in order to analyse and track changes in its mechanical behaviour due to internal and external stresses. By analysing those static data, we could study the gradual changes in the structure's behaviours, including due to temperature variations and its natural ageing. The structure's actual operating conditions were verified through dynamic data analysis.
Thanks to the OSMOS WiM+D®, the motorway bridge manager can now check the traffic at any time. By monitoring the bridge, several exceptional convoys over the authorised weight limit were detected and recorded. Those vehicles were subsequently identified using video-surveillance cameras linked to the monitoring system. The performed tests, continuous monitoring and information available on the SAFE WorksTM interface enabled the manager to assess the structure's actual condition, plan remedial work to be undertaken and prevent costly, restrictive closures.
Download the OSMOS WiM+D Leaflet
Download the Infrastructures Leaflet